● BQAS1 Type Flow Servo-amplified Hydraulic Steering Units
BQAS1 is a new series of an "Open Center Non-reaction" hydraulic steering unit with an increased flow built-in. It has an unique servo-amplified mode and can realize amplifying factor with 1:1.3, 1:1.5, 1:2, 1:2.5. The displacement-with servo-amplifing won't be affected by the rotation speed of the hydraulic steering unit wheel.
For power steering mode, it has the total flow amplifying function with the displacements from 100 ml/r to 500 ml/r. But for manual steering mode, it has emergency operation function with the displacements from 80 ml/r to 200 ml/r (without servo-amplifying).
BQAS1 hydraulic steering unit has the advantages of compact size, stability steering performance and emergency manual steering with small displacements. It is widely used for the hydraulic steering system of tractors, combine-harvester, wheel loaders and other wheeled vehicles.
● BQAS1 HYDRAULIC CIRCUIT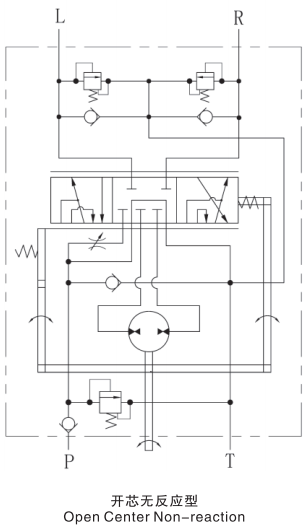 ● BQAS1 MAIN SPECIFICATION DATA